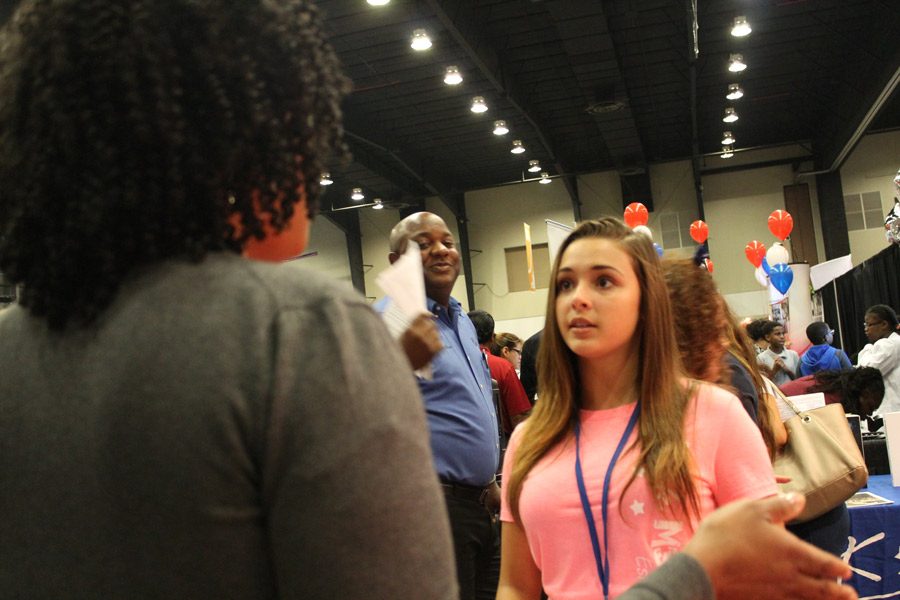 Ashley Kulberg
Choice programs for elementary, middle, and high schools were displayed at the Showcase of Schools, which took place on Oct. 18 at the South Florida Fairgrounds.
"The Showcase is great because we're all there promoting our schools," Beverly Smith, assistant magnet coordinator, said. "Choice programs allow students to participate in programs they're interested in, such as culinary, the arts, IB, or medical."
Every choice program in Palm Beach County was presented at the event, making it convenient for students and parents alike.
"I loved how you could compare the schools you wanted to go to literally right next to each other. It really helped me decide where to apply in eighth grade," Victoria Walton, sixth grade band major, said.
Starting on Nov. 1, students could submit their online choice program applications. Volunteers, such as Emma McCue, eighth grade dance major, helped guide potential Bak students on topics such as audition guidelines and general school information.
"My job at the Showcase of Schools was basically to talk to people who wanted to learn more about Bak and the audition process, and to hand out information about programs that the school offers," McCue said.
From attending the showcase, passerby could learn about a school's courses, Choice program requirements, and talk to students who attended the school about their personal experiences with these programs, all in a quick stop.
"Kids like to talk to kids," Smith said. "By having volunteers from Bak, we give interested parents a different perspective of the school- one from the students."
At the end of the showcase, families went home with a lot of information about choice programs, to aid them in making the right choice.
"The true reason why we participate in the Showcase of Schools is because it is a venue to educate the public on our school," Smith said. "We can get our message out to so many people at a time."