Staff kickball team creates healthy camaraderie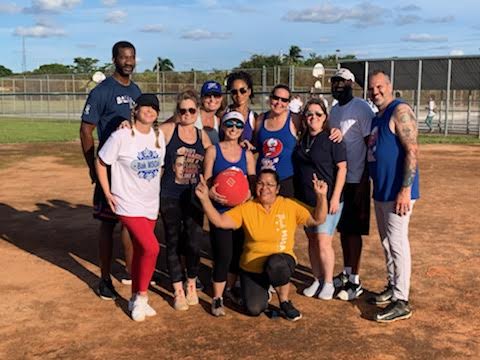 Kickball, a game familiar to most students as something to play with their classmates during recess, had also been  made into a way for staff members and administrators to socialize and interact with each other.
"The district started this thing called 'Staff Sports' where they wanted to get teachers and administrators to get more exercise and be more active," Douglas Battle, social studies teacher said.
Battle was the team captain of the staff kickball team. He organized practices and helped the team prepare for games, along with balancing  his teaching.
"The kickball  team actually helps me with my teaching. Sometimes when you're just teaching and teaching, it all just gets really tedious. So, I personally look forward to it," Battle said.
For some of the other team members, teaching was not the only thing they had to balance along with being on the team.
"It's hard balancing my family. However, what works out really nicely is because since all of us teachers at Bak are so close, I've actually done practices with my kids." Ashley Jones, language arts teacher said. "They've played with us and helped us practice for our games."
The kickball team was not limited to just teachers. Administrators and other staff members like assistant principal Misty Connelly had joined the team as well.
"I wanted that opportunity to spend some positive quality time with staff members, and also to just  have fun," Connelly said.
Last year, the staff kickball team was not able to play any games because of COVID-19. However, games started up again and the team played against a few schools already. The team had won their previous game against an elementary school.
"What we hope is that if we show the district that this is successful, they'll start scheduling more and more and more games," Battle said.
The kickball team's practices and games were  on Fridays after school. The kickball team allowed staff members to get to know each other better and stay active.
Jones said, "The best part is just being able to have fun and to know that we have something to look forward to on Friday afternoons."