New Assistant Principal Joins Bak Staff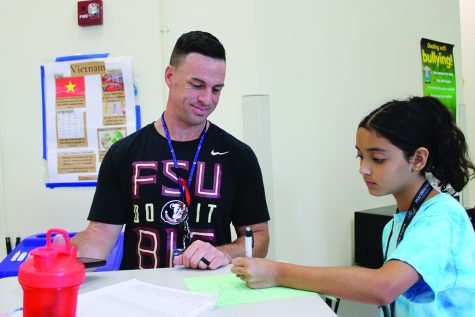 Daniel Stechschulte replaced Timothy Regula as assistant principal for students with last names starting with "G" through "O" for the 2022-2023 school year.
"I knew that I wanted to be a teacher after my second year of college. I was working at a summer camp and I loved being around kids and interacting with different people," Stechschulte said.
After finishing college at Florida State University with a degree in English education and a master's in education leadership, Stechschulte started working at Wellington High School. He taught English language arts then later served as an administrator for five years.
"The thing I love most about Bak is the enthusiasm of the students. Both students and teachers have a passion for what they do and teachers are proud of providing an avenue for student success," Stechshulte said.
This school year, the faculty and staff learned Regula was leaving Bak to move to Pittsburgh to be closer to his family.
School principal Sally Rozanski said Mr. Stechschulte was selected by a committee based on his responses to targeted selection questions, his experiences as an educator and his qualities that would allow him to mesh with the Bak family.
Ever since getting this position, Stechshulte has worked hard to ensure that students have the best place possible to learn and explore new things.
"One of the signs of a good AP is that they know the value of forging strong, positive relationships with students," Crystal Clark, assistant principal said. "From the first day on the job, Mr. Stechschulte showed he is eager to learn about Bak's students and let them know they matter to him."