Winter plans leave students excited for the break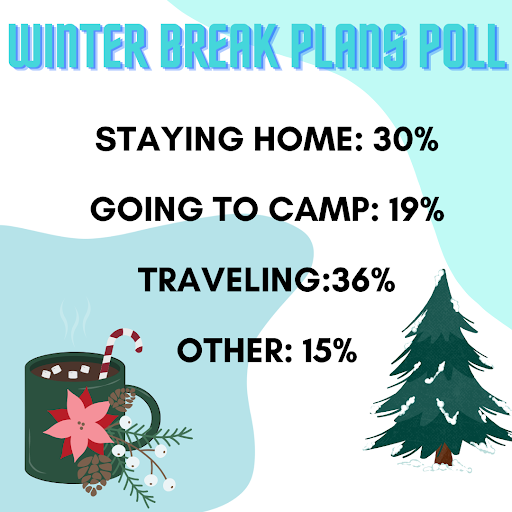 On the last day of the first semester,  students are watching the clock, counting the minutes until they can leave to go home and get on with their winter break plans. A multitude of students have many different plans for what they are going to do with the time off of school. 
"I am excited for winter break because I am going to Germany to visit my dad's side of the family," Kaya Grover, sixth grade visual major said.
Many other students also have plans of reuniting with family that do not live with them.  Due to COVID-19, many people have not seen their family in a while, which is why some are making plans to visit them now.
"I am going to go to Spain to visit my family. I go almost every year around this time, so I am really looking forward to it," Sophia Ecija, seventh grade visual major said. "I love traveling to Spain so much, it is like my home away from home."
Some students are going to new destinations simply because they want to visit new places, and experience new things, such as unique food or snow.
"I am going to the mountains in Georgia, and I can't wait to see snow. I have always wanted to see it," Sophia Larsen, sixth grade dance major said.
However, some students are simply excited for no school and are ready to use this time to work on sports, hang out with friends or catch up on necessary sleep that they have been missing out on.
"Honestly, I am probably going to be spending most of my time on the [volleyball] court or in bed. Playing volleyball is important to me because if I train hard enough, I could get a good scholarship," Valentina Falcon, seventh grade visual major, said.
Whether it is playing volleyball or catching up with family and friends in a different state, these activities have significance to the students. 
"I have been visiting my cousins in Canada for Christmas for as long as I can remember, until COVID-19 happened," Lucy Davidson, seventh grade communications major, said. I am especially excited for this year because it has been a while since I have seen them." 
Some students' plans were not the same as the previous winter break, where they had done something entirely different.
"Last year, my family and I went to visit my dad's side of the family in Orlando," Larsen said.  "This was very important to me because they are a part of my family that I do not get to see as often as my mom and my dad." 
Winter break is a time of year when students can spend time with distant family, practice sports or just explore.
"Winter break is perfect for doing whatever makes you happy," Jude Qatshan, seventh grade communications major said. "Even if it is just sleeping in."