After COVID, baseball team pitches into beginning of season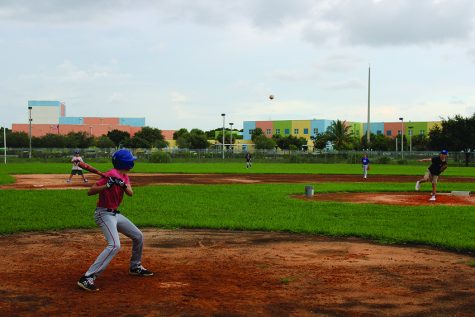 Following two years of season cancellations due to the COVID-19 pandemic, the baseball team began its season Aug. 22.
Many members were excited to bring back the group.
"I feel the upcoming season will be interesting since this will be the first team Bak has had since 2019," said Bill Pinto, head coach of the baseball team. "This year, all players will be new, so they will have to learn how to work together to get things done."
In order to make the team, students were assessed on their baseball skills, including stamina, batting, pitching and more.
"I feel like I performed pretty well at tryouts," Ben Bagatell, eighth grade shortstop said. "I was an early selection for the team. It feels great to be on the team and practice with the other players."
As the official team roster was revealed, the new team members had their own beliefs on positive and negative sides of the team. While some said that they had high expectations for the season, others suggested there was room for improvement.
"I believe I'm a great addition to the team because I'm driven, and I don't give up," Nicklaus Edmiston, eighth grade outfielder said. "Some weaknesses of our team are our players getting overconfident with their skills and not always performing their best at practices."
Every player has their own origins of the sport, and each member has their own reasons why they wanted to try out for the team.
"My dad was a varsity baseball player in high school, so I strive to be like him," Bagatell said. "I've been playing for about eight years. I've followed this sport since I can remember, and I am just so excited to be playing for my school."
As the baseball team returns to campus, more opportunities for students to expand their athleticism and teamwork skills have opened up.
Pinto is ready to help his players improve their skills.
"My plan is to provide the boys with a successful foundation to grow in the area of this sport."