Review: Never fear, a Halloween candy review is here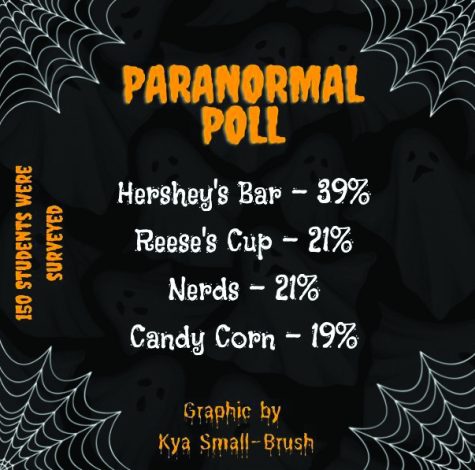 Spooky season has arrived at last. We tried the most popular Halloween candies, and we have some thoughts on them.
Candy Corn
First up is candy corn, a Halloween classic. This candy was sugary, yet delightful, when eaten in small amounts. The candy corn was presented with its traditional colors – orange, yellow and white. We enjoyed this candy, however, we would prefer other candies, as it tasted too sweet.
Our rating: 3.5/5.
Hershey's Milk Chocolate Bar
Next on our list is Hershey's chocolate bar. During the fall season, this candy comes in a festive wrapper. Inside the wrapper was a frightfully fulfilling chocolate rectangle. The chocolate was not too dense, and the texture was smooth, which made it a delightful treat. This candy bar did not have the break apart option to share, but it definitely left us wanting more.
Our rating: 4/5.
Reese's Peanut Butter Pumpkins
This candy tasted like the classic Reese's Peanut Butter cups but were shaped as pumpkins. The peanut butter inside was grainy, but at the same time, soft. The chocolate was milky and smooth.
The combined textures of the velvety chocolate and semi-smooth peanut butter complemented each other well, although we wished the peanut butter was smoother. The pumpkin shape put us in the Halloween spirit.
Our rating: 3.5/5.
Kinder Joy Eggs
Our last taste test was the Halloween Kinder Joy Egg. It was flavorful and had a spooktacular taste. The amount given was perfect. The crunchy spheres were chocolate covered wafers and surrounded by Nutella. Although the mystery of the toy was suspenseful and enjoyable, the fun of the tiny plastic pieces only lasted briefly. We both got the same character, which took away some excitement.
Our rating: 4.5/5.