Girls volleyball team enters new season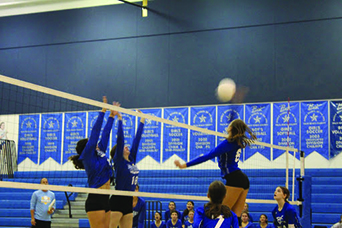 The girls volleyball team began their season on Nov. 17 against Jupiter Middle School, and every player on the team contributed to their success. ."Normally at practice, we'll work on different skills," Aubrey Oliver, eighth grade right sider said. "Whether it's working on the strengths and weaknesses, so that we can better ourselves for games or something else, our team always benefits from each practice."
Each player on the team had separate predictions on the results for the upcoming season, but the majority of players believed that they would grow as a team and form true bonds as teammates.
"I'm excited for the season, we definitely have a good team. There's a lot of good players and I think we can really execute a very good outcome for the season," Genvieve Cox, eighth grade  left back said. 
For some, the most beneficial aspect of the team was the skill and talents of each individual player. 
"I think everyone is an important asset on the team, not just me, because if someone is out on the court, we all step in and help each other out," Isabella Rigaud, eighth grade middle forward said.
After becoming victorious against Jupiter Middle on Nov. 17, the teammates celebrated against this hard-earned victory. 
"When we won the game against Jupiter, everyone was so excited and happy that we became victorious," Cox said.  "It shows that everyone worked really hard at practice, and that we will have a great season ahead of us."
Even though some girls had not planned on trying out at the beginning of the season, most say that they were glad they did.
Oliver said, "I wanted to do something new because typically I wouldn't try out for the team, but I did last year and I took the chance and I made it. The team was also fun last year so I decided to do it aga