Drag racer pursues passion despite risks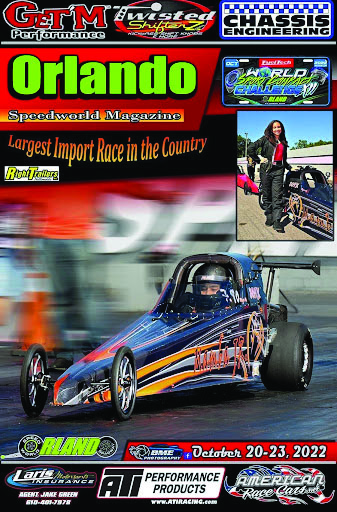 Drag racers like eighth grade communications major Miya Mckenzie face many obstacles while on the drag strip. Drag racing revolves around a competition between motor racers to see who can make it to the finish line first, and everyone is determined to win.
"I grew up with drag racing so it's like another home for me,"Mckenzie said. " I always have my family, friends or even random people with me whenever I'm racing in a competition."
Mckenzie competes with a team of people with the same passion as her. One of which being LeNyra Camban. She competes alongside Mckenzie in the 7.90 class. 7.90 seconds in an 1/8 of a mile, and their age group ranges from 13-17.
"One obstacle that I did overcome was [being] scared to race again after I got into my first accident, in which I hit the wall during my first event ever," Camban said.
Mckenzie has been drag racing since she was eight- years-old, because she was introduced by her father and has been doing it for five consecutive years.
"Something that I find unique about drag racing is that it has modified cars that you race and you can go all out. I love going fast down the track and it also gives me another outlet to express myself," Mckenzie said.
Drag racing, like any other sport, has its risks, and those can often discourage people, but Mckenzie and Camban continue to love drag racing. 
 "You can tell Miya is passionate because she devotes her time to drive all the way to Orlando to practice, and she talks about how much she loves it and the community of people involved,"  eighth  grade communications major, Melina Marousa Stroud said.
Of course they acknowledge the dangers of this sport, but this is a place where they are with family and friends and realize that they are safe. But when Mckenzie's father experienced a crash during a race, she realized how dangerous the sport can be. 
"Obviously I knew before because I've seen many crashes, but when it happens to someone you love it's a whole different point of view," Mckenzie said. "I remember this moment clear as day. I was shaking, terrified and crying as I saw my dad's car flipping down the track. I was scared to even race that day after what I saw."
There are so many obstacles with drag racing – things can go wrong so easily. Anything can happen, whether it's a tire shake, tire spin, oil leakage or the engine shutting off, so much more can happen on the track.
"My dad came out fine, he only had 1-2 injuries," Mckenzie said."I remember him telling me 'It's all a part of racing, there's nothing to be afraid of. You have the right equipment to keep you safe in the moment,' and afterwards, I went down the track calm, cool and collected."